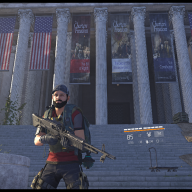 Sep 13, 2013
5,909
2,078
2,720
lol I didn't realize that was you playing with AtomBom last night. Yea first time playing Hardcore for me and it felt so much better. Regular games are like 90% shoot first die first with that one game that you've got host in. Other games sometimes for maybe a 5-6 kill run I'm unstoppable then it goes back to normal. Hardcore showed me I don't have old man reflexes and it's just the netcode being complete ass. Still have some potato aim once in a while but reflexes still good in those close quarters 1v1.

Also you left at a good time. Two matches after you left the other team was camp city on one of the hardcore dom matches. Just window sniping or head glitching corners. So boring.
I was mainly commenting on some matches I played earlier in the evening before I grouped up with you guys. I didn't realize you were in there. What's your GT?