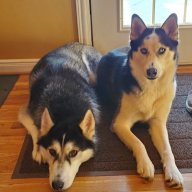 Sep 11, 2013
1,256
402
980
I've been afraid to try it to be honest. I did a strike once and the 2 other players were popping off headshots so quickly. I was barely keeping up.

I'm hoping the ranked solo queue will offer some hope. Playing solo against fireteams is pretty tough. A little coordination goes a long way in this game. Control the heavy ammo and chain your supers in a row. There's not a lot to counter that. Even on console I had problems.

Shadowkeep should attract some more casual players too. The free game should bring in more noobs. Right now there's mostly just the hardcore crowd so everyone's really good.

PVP is still my one major problem with the game. The system is set up to stomp on solo players. The best guns are only attainable by higher rank players, which just separates the best from the rest even more.

I still may just stick to PS4 for PVP and do PVE on PC. I'm just so used to playing Destiny on a controller that I have so much muscle memory built up.
It's rough but I feel like I can be pretty good at it with a little practice. As far as the weapons go, if you have Ace of Spades, The Last Word, Thorn, or a good pulse rifle you are good to go.
With the community event on Mars a lot of people are running EP. I found it's a good way to get used to the M/K controls.