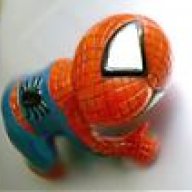 Your friendly Neighborhood Spiderman
Cornerstone Member
Sep 11, 2013
7,398
1,304
12,830
After playing Shadow of Tomb Raider. I made a realization. It's better to play the type of games you enjoy, then play popular games. Same can be said of movies.

When I was on a plane to India to get sunburned, I watched Peter Rabbit. I thought it is very funny & the jokes ain't overly in your face. However, going to rotten tomatoes, the rating ain't as high as I thought. Paddington 2 which I enjoy just as much, scored much higher.

God of war is highly rated, & I did enjoy myself when I played, but I never felt the urge to returned to the game. Maybe Kratos quite unrelatable, & his son is another emo kid, but looks like a shrunk down Russian gangster with an overly amount of scars & tattoos on a kid.

But Lara feels relatable, maybe because I played her since the reboot. maybe.
Last edited: