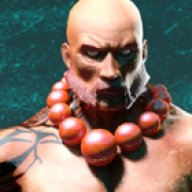 Sep 13, 2013
12,965
5,039
3,629
They haven't deliver on their initial promise and they keep saying they will add more. I'm glad I didn't back them personally. I'm not saying they are trying to con people. I'm just questioning if theyll actually deliver in the end.
Would be silly to say otherwise. That said, this project is probably the most intriguing game development out there to me. It's the farthest I've ever seen anyone get to that fantasy, all included game I've always dreamt about. Even weirder is that I'll probably never play it given I don't game on PC anymore.
There is a large part of me that wants them to pursue every ambition they have. Just for the attempt. I wonder how many production techniques will be improved because of this game. It's kinda unbelievable what they've done so far...