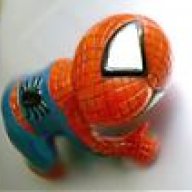 Your friendly Neighborhood Spiderman
Cornerstone Member
Sep 11, 2013
7,447
1,324
12,830
Hi guys, The myth the legend is back! By that, I mean hmmm.... myself.

Jokes aside, 2019 was a painful year for me. Literally. without details (because I am not asking for self-pity), I have recovered & it changes the perspective of life & I am stronger (both physically & mentally due it) I appreciate simple things more, & less outrage over superficial stuff like jams at traffic, or someone cuts your queue.

Anyway, I have been playing the game of the generation, & liking it. Of course I mean Fortnite.

Anyway, I am playing also a bit of COD: warzone, but unfortunately, the game has texture & polygon loading issue on PC& I have to reinstall (suppose to be the solution), but installation is painful. My average speed is 650kb/s, yes kb/s, & at this rate, I will need at least 1 week to download 24/7. I talked to some people (in Germany), & their speed is similar to mine.
I can run the game on PS4, after 3 days of download, but I have to use "dirty" controller like console pleasant. (just kidding, but I prefer KB/Mouse) Besides games looks (if works) better on PC.

After the pandemic is over (Mandatory home office), I think I am going to upgrade 150mb/s internet. Every game takes days to download while slowing my PC to snail pace.