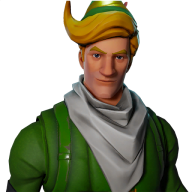 Well-Known Member
BANNED!
Nov 1, 2017
2,455
282
960
Fortnite Battle Royale released on September 26th, 2017 by Epic Games.

According to Epic, "Over one million players played Fortnite Battle Royale on the first day."

One week later on October 4th, Epic announces that Fortnite Battle Royale has 7 million players.

On October 9th, Epic announces there were 525 thousand concurrent Fortnite Battle Royale players. On October 11th, Epic announces over 10 million people played FNBR.

On October 29th, Epic announces they had over 811 thousand concurrent players.

Why am I telling you this? Because Epic released a mode many viewed as tacked on, to a game that many considered "OK", with next to no real marketing budget, and the player base has skyrocketed organically.

UnionVGF, you are a lover of videogames. This game has more mojo in it's pinky finger than 99% of big budget multiplayer releases. Why UnionVGF, have you not at least tried out, and ultimately fallen in love with a game that most, at one point in time, wrote off as an uninspired PUBG clone? It's free for crying out loud and it's on PC, XBox One, and PS4!