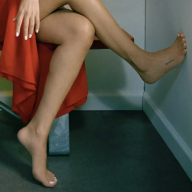 Xbox + PlayStation = ❤️
Cornerstone Member
Sep 13, 2013
26,320
12,162
15,031
Growing up, I have always been big into music. I remember being REALLY little, like say 5 years old and my parents had a record player. At Christmas time, Santa would bring me LPs to play on it, usually soundtracks. Mary Poppins, Sesame Street, etc.
When I was older and got my first job as a paperboy, I remember saving up to buy my first stereo, and bought it at Kmart. It was one of those all in one plastic units. Kinda like this:

I ended up buying my first vinyl's for it, Whitesnake, Great White, Michael Jackson, Billy Joel. But it wasn't long after that when I switch to cassette tapes and CD's because of the popularity of boomboxes and portability. Eventually once in college I want to all CD, and ended up owning about 1300 CD's.
The digital age came, and I ripped every single one of my 1300 CD's to digital format, 1 disc at a time in my laptop. I still have them on a thumbdrive today. Eventually I ended up just buying my music on iTunes and of course streaming from Spotify, iHeart, etc.
About 8 years ago my wife was going through storage and she stumbled upon the 20 or so vinyls that I had back from the 80s in a box. Of course I didn't know this. Then it was Christmas of 2013 and one of the presents under the tree from her was a vinyl player! I was totally surprised. She then went into the basement quickly and brought up my vinyls and she was like "I thought you might want to listen to these again like you had when you were younger". We are both huge into music, and she too wanted to hear all of what I had.
This is the vinyl player she got me for Christmas that year (mine was silver though):

Then last year, I wanted a vinyl player for our cabin as well, so I ended up getting this one for there, bundled with Bluetooth speakers: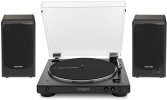 And now this year, I have finally decided to upgrade the vinyl player that my wife had given me at Christmas of 2013 with a more professional model from Fluance, which has a SICK sound to it.

But now as I continue my love for collecting vinyl and players, my gaming was starting to get squeezed out:

So my wife just ordered this last week and we put it together this weekend. She bought a bunch of old vinyl to make the alphabet to organize them as well:

Next up are some Klipsch "The Fives" speakers to get some much better needed sound than what that little Bose is giving me now (though it's been good for the time we have used it).
Any other vinyl fans here spinning?