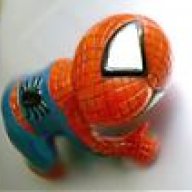 Your Friendly Neighborhood Spider-man
Cornerstone Member
Sep 11, 2013
9,120
2,808
12,830
Hello, in a nutshell, this is a place to share your game development (whats ok to share), asks questions, give advice (for the veterans), share good links, & just anything about game developments.
Game developments tools are getting more friendly, more accessible. You have cool ideas you have longed to put into your game? Stop dreaming, its time to act! You already on the train, why not share with us your experiences, what to look for.
I myself is an beginner, a newbie, and probably need more advice than I can help others, but more on that later...
I will start by linking all the popular game engines out there in the market for people looking to make games, on mobile, consoles or PC.
Unity. Its a popular game engine, & now both MS, & SOny both include this (for virtually free) in their development kits. Lots of resources in the net. For more info, there is in fact a Unity thread. DLC, a member here, can explain better.
https://unity3d.com/
Construct 2. Construct 2 is a powerful ground breaking HTML5 game creator designed specifically for 2D games. It allows anyone to build games — no coding required!
https://www.scirra.com/construct2
Goodbye UDK (Unreal Development Kit), Hello UE4 (Unreal Engine 4). The most popular AAA Game development Kit, the UDK (which power Unreal Engine 3), has been available for free for anyone interested to make games since 2009. Tutorials & resources are plentiful in the net. However, Unreal Engine 4 has been made available since March. It is a vast improvement over UDK, for $19 per month & Royality of 5% gross revenue on shipped game, you get to use one of the industry leading tool. You need a beefy PC though.
https://www.unrealengine.com/blog/welcome-to-unreal-engine-4
Cryengine
The most powerful 3rd party engine (until UE4, now I am not sure) is available for $9.90 per month. I could say much but here is the link.
http://cryengine.com/
Other useful game development tools:
1) Photoshop. Every game developers (& photography fans) should have this.
2) Visual Studio (Express version is free)
3) Popular 3D apps includes Maya, 3D Max, Cinema 4D, Lightwave, Blender(which is free)
3.1) Zbrush & Mudbox are also popular softeare for 3D sculpting, & painting
4) Adobe Flash, you can make simple games with it, animation, & useful for making menus
5) Video editing??? Someone fill me in with this
6) Sound editing??? Someone fill me in with this
Last edited: