HTC has been hinting at a new VR headset for weeks. Youtuber Brad Lynch claims to have leaked the design and technology.
mixed-news.com
Lynch
reached out to industry sources, particularly those in the supply chain, and got his hands on photos of the VR headset. To protect the sources of the leak, Lynch had 3D designer Marcus
Kane
create renders of the device based on those photos. Lynch has worked with Kane before on his Quest Pro leaks.
The casing is visually reminiscent of the Vive Flow and has
pancake lenses
like the latter, so the headset itself is rather slim.
Technically, however, the device is much more powerful: It works completely independently like the Vive Focus 3.
Lynch's sources could not confirm exactly which chip it is. The most likely candidate is the Snapdragon XR2 Gen 2, which is rumored to be
unveiled tonight
. It could offer up to three times as much graphics performance as the last-generation chip.
HTC Vive "Flowcus" is a full 6-DoF headset, Lynch said. The Vive Focus 3 controllers are used as input devices. Vive Flow was also 6-DoF, but only offered a 3-DoF smartphone controller
Similar to the Pico 4, HTC's new headset has four tracking cameras and an RGB sensor integrated. The HTC Vive "Flowcus" is supposed to offer color passthrough. The VR headset has two integrated LC displays with a
resolution of 1,920 by 1,920 pixels
that run at a maximum refresh rate of 120 hertz.
The HTC Vive "Flowcus" adopts perhaps the best feature of the HTC Vive Flow: a visual acuity adjustment directly on the lenses that lets you set your diopter number, eliminating the need to wear a headset or contact lenses.
Unlike the HTC Vive Flow, the lens distance can also be adjusted via a physical slider. For full VR immersion, you can attach a light shield to the casing.
One of the most interesting features of the HTC Vive "Flowcus" is its modular design: The rear part of the head mount, which also contains the battery, can be removed.
This allows the device to be used as particularly lightweight glasses for on the go, which can be connected to an external player (such as a smartphone or PC) via a USB-C cable (see cover picture). In this "glasses mode", the temples can be folded down like real glasses. The sound comes from integrated stereo speakers.
According to Lynch's sources, the device will be launched in early 2023 and will have a price tag for consumers.
Since HTC is not known for subsidizing hardware, the headset will probably not be cheap anyway. According to Lynch's insiders, the price will be less than $1,000. HTC could unveil the device in January at CES 2023.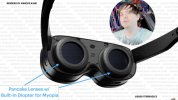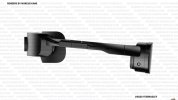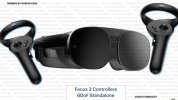 Not sure if it should be posted here so it can be closed/moved