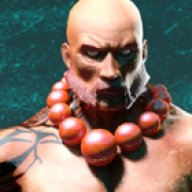 Sep 13, 2013
12,969
5,041
3,629
Have you noticed any controller lag?
Nothing that sticks out. I didn't notice any, but I'm sure if you timed it or something, lol. It feels plenty responsive to me. I forced myself to stop at Siberia last night. If That first tomb is a taste of what's to come, I will be very happy
I'm playing on the second hardest setting. I've died a few times to traps or mistiming (no automatic platforming here). I also like that when you have to run, you have to RUN. If you take the time to smell the roses, you're getting a rock to the head, lol, and crumbling ledges will take you with them (I'm looking at YOU, Uncharted). It's nice to have that sense of urgency back.
I wonder if they are sneaking some pre-rendered stuff in there because some of that physics destruction is damn impressive. Of course, it happens during game-play as well. The end of the Syria tomb was pretty amazing. I love that they have lots of physical objects lying around. I was just randomly shooting stuff to see how static it was, and was pleased that objects stuffed into little crevices would break or go flying with the appropriate sounds (a metal cup clangs against stone). Shooting down those hanging incense canisters is satisfying as they look properly heavy as they fall.
It really looks Next-Gen, regardless of whether the 360 can run a pared down version. The Geometry alone is very impressive. Tons of tiny details and moving foliage makes it feel alive. That first scene on the top of the mountain (and the beginning of the Siberia level) actually
FELT
cold, lol. They captured it perfectly. The wind, particles, and volumetric effects come together convincingly.
The dynamic snow is the best I've ever seen. Even their hands leave their own impressions. I killed a deer (which is handled much better than 2013) at the top of a hill, and as it slid down the hill it made a drag mark the whole way
There are a lot of things to find and collect (Wood, shoot down nests for feathers), and I really like the animations they made for them (like lara stripping the branches off the trees).
Lara herself is one of the best In-game models as well. Her hair has more weight and friction than before, and even moves differently when wet. She even squints when aiming the bow
Textures are high res. She makes lots of appropriate facial expressions. The only issue I have is that the game occasionally hits the uncanny valley very hard. He face can definitely be over-animated at times. Small price to pay though, and Lara seems even more like a real person than ever before.
I even find the story more interesting this time. It has a more Indiana Jones vibe than the Reboot. I really like Jona, lol. I'm sorta rooting for him to be a love interest for Lara. He'd certainly be a break from the norm, and he's so loyal and likable. Overall, the pacing has been very well handled and though the enemy is a bit cliche, It's been handled well so far. I've only killed 2 or 3 enemies so far. The beginning is pretty much all exploration and navigation.
This is a Top Game. Top. Game...
Top. Game.
Last edited: