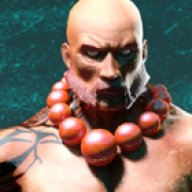 Sep 13, 2013
11,549
3,335
3,629
I don't know how assembling PC has to do with knowledge of how graphics works, but okay.

The GPU determines the number of polygons that it can draw/unit time, the shading (like metallic, texturing etc). The ram determine how much graphical data it can hold to do all the shading.

As extreme case, a fast GPU but low ram graphic card can render a very high res (polygon) scene with low res textures or have many repeating textures.
A slow GPU but lot of rams can produce a lower res (polygon) scene but with more detail texture or less repeating textures. I wanted to point out ram is also used to store vertice data as well.
The good news is that both consoles will be throwing around new shading techniques, tons of polys, and advanced lighting. There really is no downside this coming gen, imo. Minds will be blown!